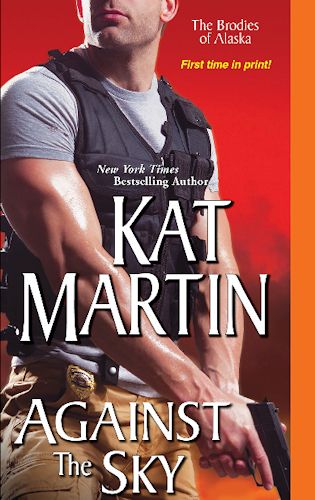 New York Times Bestselling Author Kat Martin is set to continue her string of NY Times bestsellers with the Release of Her Latest Romantic Suspense Novel, Against the Sky
Missoula, MT – New York Times bestselling author Kat Martin is set to release her latest Romantic Suspense novel, Against the Sky, an action-packed adventure filled with passion, murder, and intrigue, on January 27, 2015.
Martin has been featured in the Wall Street Journal, Entertainment Weekly, and the RT Book Reviews Magazine, as well as numerous regional and local publications. Ms. Martin looks forward to the release of Against the Sky, which she hopes will move even higher on the New York Times list.
Against the Wild, Martin's last release (June 2014), an action-packed adventure, the first of the Brodies of Alaska, is a story filled with passion, murder, and intrigue, took the number ten spot on the New York Times.
All nine novels in the Against series have hit the prestigious New York Times Bestseller list.
About the book:
Against the Sky by Kat Martin
ISBN: 9781420133844
Publisher: Zebra
Date of publish: January 27, 2015
Pages: 400
S.R.P.: $7.99
ALASKA. In America's last wilderness there are no limits to what a man can do. For detective Nick Brodie, that means keeping the perps off the streets of Anchorage 24/7. Nick has never backed down from danger, but after the horrors he's seen, he's definitely in need of a break.
Samantha Hollis never thought she'd meet anyone like Nick, especially in place like Las Vegas. But after one reckless, passionate night, she discovers the charismatic stranger is everything she wants in a man. But can he ever be anything more than a one-night-stand?
When Nick invites her to Alaska, Samantha decides to find out, never guessing the depths she'll discover in him or the tangle of murder, kidnapping and danger about to engulf them both …
Kat Martin website: http://KatMartin.com/
Book Trailer Video: https://www.youtube.com/watch?v=vxy5mi2cFJM
Netgalley link: https://www.netgalley.com/catalog/show/id/57507
About the author:
New York Times bestselling author Kat Martin is a graduate of the University of California at Santa Barbara where she majored in Anthropology and also studied History.   Before she started writing in 1985, Kat was a real estate broker.  During that time she met her husband, L.J. Martin, author of thirty western, non-fiction, historical, and suspense novels.  A resident of Missoula, Montana, Kat and her husband spend their winters in Ventura, California.  She is a currently writing her next Romantic Suspense.
With sixty five novels to her credit and more than sixteen million copies of her books in print, Ms. Martin has been published in twenty-one foreign countries including France, Japan, Greece, Argentina, Russia, Sweden, Turkey, China, and Spain.
Buy links:
Amazon: http://www.amazon.com/gp/product/1420133845/
BN.com: http://www.barnesandnoble.com/w/against-the-sky-kat-martin/1119437332?ean=9781420133844
Indiebound.com: http://www.indiebound.org/book/9781420133844
Contact:
Publicist: Rita Michell, rita@katbooks.com